ACCU-2M3-CARB, Portable Air Cleaner with 72-Pound Carbon Cell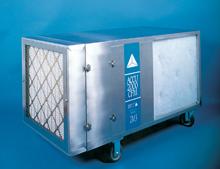 ACCU-2M3-CARB - The ACCU-2M3 CARB is a portable carbon cell air cleaner designed to address chemical fume odor in commercial and industrial environments. This unit has a 2-speed, 0.75-HP motor and a dual-intake configuration offering a maximum of 2000 CFM. The housing is stainless steel and features a front-access, slide-in filter arrangement for the main filter. The unit cleans the air via carbon filtration media and there are 2, 36-pound refillable carbon cells for a total of 72 pounds of carbon. The standard unit is provided with coconut shell carbon which address many airborne chemical toxins and fumes from the use of volatile organic compounds (VOCs). Please note that we will confirm that the carbon filtration media of the package proposed will address your indoor air quality application and there are numerous options for carbon media blends. In addition to being suitable for industrial odor extraction, the ACCU-2M3-CARB can also be offered with a 4-lamp module of 17-inch, 24-watt UVGI lamps for antibacterial applications calling for contamination control. Please contact us with any details on an application that can be addressed by this portable air cleaner.
Request-A-Quote

Forget everything you know about ordinary replacement filters for your furnace and air conditioner. The OakleyAir Filter System is unlike any other filter available — these ring panel filters are ten times more effective than ordinary filters, contain absolutely no fiberglass and trap up to 95% of pollen, lint, mold spores, dust and pet dander. And they keep filtering airborne contaminants from your indoor environment for an incredible 100 days.

Special Air Filter designed to help the Tanning and Hair Salon Industry.

Special Air Filter designed to help the Fitness Industry.

Units that will source capture harmful fumes and dust common to welding and metal grinding. Units are fitted with source capture arms and options include portable weld smoke collectors as well as stationary downdraft workbenches.

The Dust Cab unit is a smaller sized collector and a low cost alternative to the self cleaning cartridge dust collector

Air cleaners designed for critical care facilities for contamination control. Most units feature a combination of 99.97% efficient HEPA filtration and UVGI lamps for bacterial sterilization.

Portable air cleaners fitted with a 99.97% efficient HEPA filter for fine, submicronic dust and large carbon post filters to chemical fumes and tobacco odor.

Pulse-filter, dry only vacuums designed for heavy loading of fine dust common to concrete surfacing and drywall installation.

Powerful hand held vacuums designed for collecting small amounts of debris in both industrial and commercial applications. These vacuums are suitable for spot cleaning toner from office equipment, scraps from work stations and metal chips from machine tools.

Commercial and Industrial Vacuum Replacement Hose

Industrial Cleaning Accessories

OakleyAir Systems has a wide range of insulation blowing/spraying equipment no matter what your insulation blowing/spraying needs are. With a superior design and construction, OakleyAir insulation blowers/sprayers are engineered to perform and built to last in the most demanding conditions.